Coronavirus Confusion and Conundrum
Folks, we so miss our Sunday evening gatherings. Over the last few months, really since Easter, we've been trying to serve, to teach, and to preach to the community around us (virtually) in the hopes of fulfilling God's call to preach/teach and make disciples. We pray that He has found us faithful. Granted, I, (Gerald), am my truest critic and know there is always room for improvement.
Like most churches, when Covid hit and the country began to go on lockdown, we halted our gatherings…before the government made any limits on the size and types of gatherings. We did this to protect our community, our workplaces, our families, and ourselves from the potential of catching this virus. Like many, we were respectfully fearful of the virus. So, we washed our hands, wore our masks, and stayed away from others as much as possible…even family.
It has now been six months since Covid really came into our everyday life. We see that the science around the virus has evolved, as well as the treatments available. We see that the death toll and the severe symptomatic victims has lessened over this time. Of course, we recognize this truth but do not minimize the risks, or the value, of those that this virus could indeed be most harmful to. But we are hopeful and do recognize the advances that have been made in the fight against the virus.
We also recognize, and know too well, the desire to "return to normal." And we do see in many ways where some normalcy has returned. People are getting out more, eating out, getting their hair done, and even hitting the gyms. Granted most of these outings still require some "different normal," per the various safety precautions necessary. We also see some more populated areas of our nation and world beginning to go back on lockdown.
I personally sit in this conundrum of the decision to begin meeting again. With all my heart, I miss our discussions, our dining together, our time together in the Word.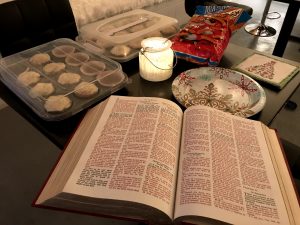 I feel the pressure of other churches opening up, and people asking me about our worship. With that my desire to regather increases. I have also heard of local churches reopening and then closing again due to someone having Covid in their midst. I also know that many can look at us and say, "You're more of a small group, and your numbers should allow you to safely gather." And to a degree this may be true. And I wrestle with that truth.
Innovate began with a different vision of what the local Church should be. We began with the idea of food and conversation along with the idea of being super active in our community. Sadly, these things mean we also would be taking more of a risk to regather and "do what we do." Our atmosphere is more like a family gathering, and that is our goal…to be the family of God in community with one another more than just one day a week. We were on the way to this before Covid hit. We were so looking forward to Spring weather and getting out into our community more. Then Coronavirus.
With Fall weather now upon us, we have considered gathering outdoors. But we wrestle with what to do when the weather changes, when it rains, or when it gets cold enough to make sitting outside uncomfortable? What about when Winter hits and Covid is still around? What happens if one, just one of us contracts Covid and is unaware? We had friends and family with health issues that frequented our gatherings. Are we to risk their health? Are we to tell them to stay away?
So, you see the conundrum. We are saddened to not meet together, and we will wrestle with that decision until we do meet again. There are so many other questions that are in my mind as I wrestle with our Covid world right now, but I wanted us to address why Innovate Church isn't meeting right now, and make you, our friends, aware of our wrestling to do so.
Please be in prayer for us all as we traverse these murky waters of the conundrum and confusion.
Let me also remind you of our daily devotional readings on YouTube, our Worship page here on the website, Facebook, Nextdoor, and Instagram.
You can also find our Sunday messages via the same places listed above.
And currently, on Sunday evenings (6PM) we have been trying to have real discussion via Facebook live about our Sunday Sermon text. Please join us for conversation!
As always, if you need prayer, send us a message!
Thank you and God bless!
Pastor Gerald